By Beulah Pereira (Student of Post-Grad in Journalism, class of 2014-2015)
"Cooking biryani is an art", says Safar Ali, co-owner of Lucky's, Bandra's oldest existing biryani outlet. Ali, an acknowledged expert in the business of cooking biryani, was talking to us at his well-appointed home above the restaurant. He is therefore 'lucky' also in the fact that he does not have to commute to work every day!Biryani is, as everyone knows, a rich element of India's culinary heritage. It originated in Persia and was brought to India by the Mughals, who are Muslim Iranians. The term 'biryani' is derived from the Persian word 'Birian', which means, "fried before cooking'.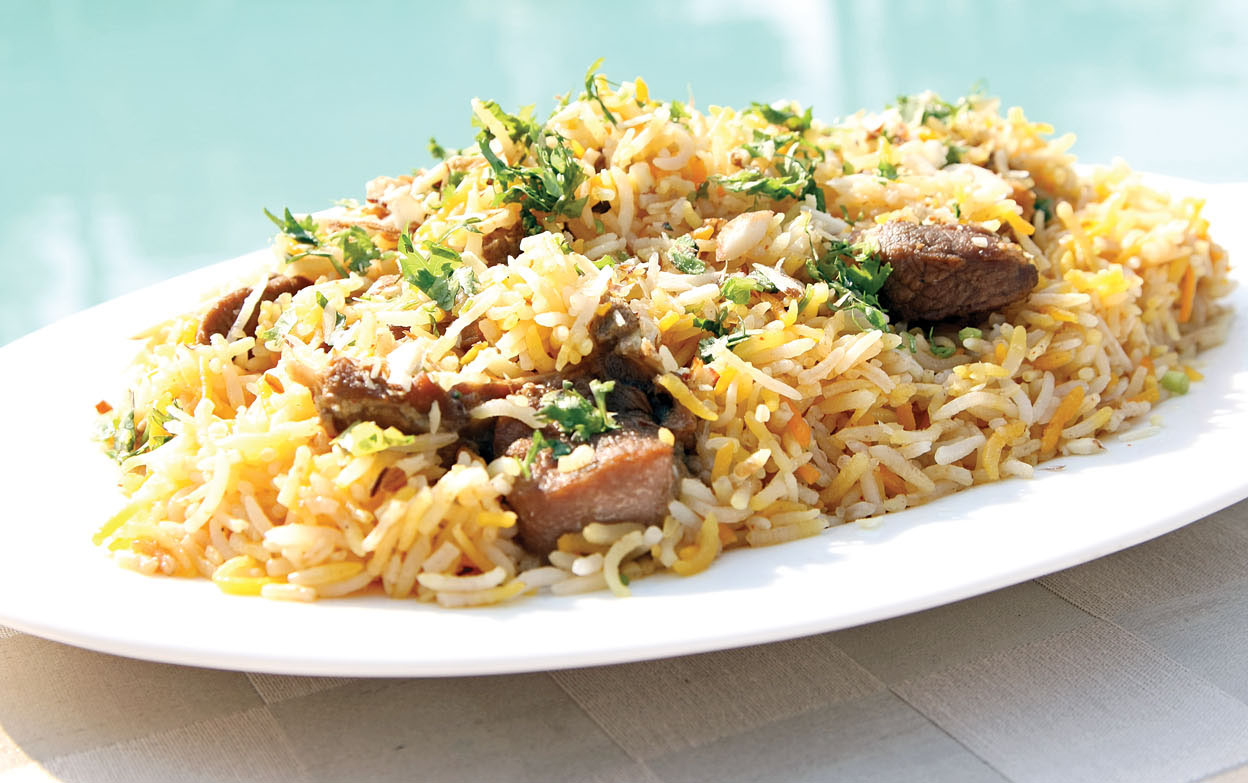 Biryanis, are more often than not, cooked by the 'dum' method, where the vessel is coated with the dough of wheat flour to bring it to the right temperature, to bring out the aroma and flavour.This is why we are writing this article. A simple infographic about the basics of biryani, posted by Sterling Holidays sparked a viral debate on Twitter, where ardent foodies, discussed the origins of biryani. Seeing the enthusiasm, Sterling Holidays posted another infographic, shedding light upon the journey of biryani across India. Obviously, observed Lata Subramanian Chief Marketing Executive of Sterling Holiday Resorts (India) Limited, regional biryanis triggered feelings of loyalty to ethnic cuisine.Mumbai, being diverse in its culture, plays host to a variety of biryanis from other states and cities. The variants available are;
The Mughlai biryani is the dish compact with spices. Known for its strong aromatic essence and flavours, it is spicy, worth the sweat.
The Hyderabadi biryani, on the other hand, is a blander dish, where the masalas and chutney are served separately. However, it was the most mentioned in Sterling Holidays' infographic.
The Lucknowi biryani, is apt for those with a milder palate, with less spicy masala, but nevertheless, not losing its essence.
The Calcutta biryani, is a sister dish of the Lucknowi biryani, which is also low on spices, with a generous use of potatoes.
H West Ward is particularly rich in biryani outlets and Bandra more than Khar and Santacruz, has as many as 200 outlets. However, the well-known ones can be counted on the tips of your fingers, approximately 5 to 6.Another less common type of biryani is the White Biryani, made in curd with no masala, as described by Sadam Shaikh, manager of Ali Caterers located in Chimbai since three decades.The dish is available with chicken, mutton and even in a vegetarian form.Lucky's was started as Bombay Restaurant in 1930 at Bazar Road with just four or five dishes. On September 9, 1938, it became Lucky's and has never looked back.
"We change with the time. Now, we offer more than 200 dishes on the menu," says Ali, proudly. "It's all about innovation", heads. A veteran in this field, Ali feels that the food should be value for money. Now with another branch in Goregaon, most of their cooks are from Uttar Pradesh, the hub for biryani specialists.Riyaz, located near Bandra Station has been around since 1968, specializing in authentic Mughlai food and desserts. Another famous restaurant in Khar, Rajasthan was established four decades ago, with just one outlet. The restaurant is doing very well, with no competitors in the area.Sahil, another restaurant in the Khar-Santacruz area, which has been around for 58 years serve medium spicy, authentic biryanis and have only one outlet in Mumbai.
A lot can happen over a biryani!